Communication protocol is responsible for network connectivity. In the parlance of IoT, we will define two forms of communication protocols, one that provides direct Internet connectivity and another that requires some form of gateway to route the data to the Internet. Let's first look at the protocols that enable us to connect directly with the Internet. The following diagram shows a typical IoT communication model.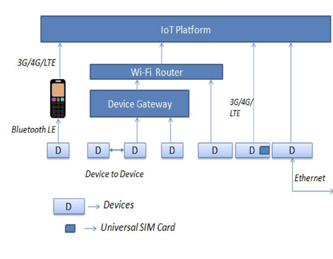 Wi-Fi
Wi-Fi protocol needs no introduction; we can't imagine a world without Wi-Fi. With Wi-Fi protocol, you can connect any device securely to a Wi-Fi gateway using security options supported by the gateway. Wi-Fi devices consume a lot of power and may not be a good option when it comes to connecting small constrained devices as it can quickly become an overhead for these devices. There arises a need to create a standard like Wi-Fi protocol which makes it easier to discover and connect devices seamlessly with the IoT network. Hopefully, in future, we would have new standardized protocols like Wi-Fi, which caters to requirements of low power consumption, longer battery life, etc. for connected products.
Ethernet
Ethernet provides a wired option where devices need to be physically connected to communicate over the network. This option might work for connected solutions like home/office, where devices are generally fixed, but this is not an option for most of the IoT applications, as it makes devices immovable.
---
Tip – LoRaWAN (Long Range Wide Area Network) is the latest addition to the new set of protocols to address the unique requirements for IoT. It is optimized for low power consumption and to support large networks with millions and millions of devices. The LoRa® Alliance @ https://www.lora-alliance.org/ plans to standardize the Low Power Wide Area Networks being deployed around the world to enable Internet of Things application.
---
Cellular
Cellular communication protocols include the connectivity options like 2G, 3G, 4G, LTE, etc. that your phone uses to connect to the cellular network. Similar to phones, this requires a data subscription package from a cellular network provider. From an IoT perspective, a device should not solely depend on cellular protocol but also allow itself to connect to other protocols like Bluetooth LE or Wi-Fi, so as to use existing connectivity options wherever available.
The second form of communication protocols requires a gateway to translate device specific commands into IP equivalent. Let's look at some of these protocols:
Bluetooth LE
Bluetooth Low Energy as the name suggests is a power efficient version of the standard Bluetooth protocol, specifically designed for devices where power consumption is a key requirement. With Bluetooth LE supported on most of the new generation mobile platforms and operating systems, it provides an option for Bluetooth LE devices to connect to Bluetooth LE mobiles and devices instantly and connect to the cloud platform or interact with the mobile application. Products like health devices or smart watches can use Bluetooth LE and connect with a Smartphones to send data to the cloud for further analysis.
RFID
RFID protocol is used to communicate data between RFID tags and readers. RFID tags described earlier in Device Layer section are primarily used for tracking objects, while RFID readers read the unique tag value, which is then further processed by the system.  A typical example of RFID in the context of IoT is to track and trace assets or products, where products are tagged by RFID tags and device gateway is installed at entry and exit points which also act as a reader. The data (possibly depicting movements of assets) is read by the reader and sent over to the cloud platform, which can trigger warnings like an unauthorized movement of a particular asset.
NFC
Near Field Communication (NFC) is similar to RFID protocol with an exception that the NFC device can act as a tag as well as a reader. NFC is also used for peer-to-peer communication between devices like NFC-enabled Smartphone, which can share data if the devices are near to each other.
NFC-enabled phones can communicate with other NFC-enabled devices and appliances like washing machine, microwave, etc. by installing the required application on the phone, which can help control the device or appliance remotely.
ZigBee / Z-wave
ZigBee and Z-wave protocols are used with devices having constrained environment like low processing power, memory and battery life. These protocols are typically used in home automation to create smart homes. They operate on low-frequency radio networks. The frequency can be increased by forming a mesh network topology (connecting similar devices to form a mesh thereby extending communication range). ZigBee and Z-wave cannot directly connect to the internet as they do not support IP networking. You would need a gateway device to route the data to the internet.